Custom
Personalise your system with multiple boxes or connect the entire house to any Sky or Freesat Satellite System. Take control of Sky or Freesat boxes from various rooms with shared viewing. This customisation is usually used in conjunction with any Sky or Freesat stand alone or Multiroom satellite system.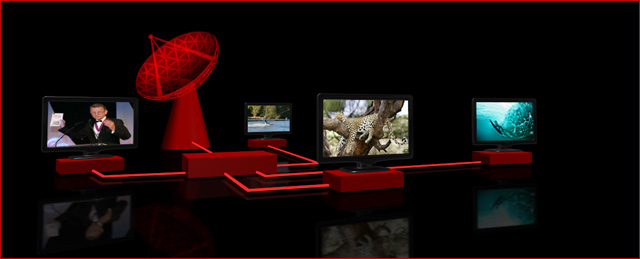 Multiple vision If you need to experience the pleasure of Sky/Freesat TV in any room in your house then you need the Sky Octo LNB Mk4. This handy gadget enables you to run up to eight standard Sky boxes or four Sky plus boxes in your house. If you and your family are always fighting over what to watch you can now have Sky in all the rooms in your house.
Quad/Octo LNB's
Four or eight outputs are provided. Each output responds to the tuner's band and polarization selection signals independently of the other outputs and "appears" to the tuner to be a separate LNB.
• Hidden satellite dish installations

• Discreet cabling works